The Source for Respiratory Innovation Secured- KoKo, LLC and Galen Data
KoKo, LLC announces a partnership for access to Galen Data's cloud platform. This new partnership provides KoKo direct and secure connectivity to a compliant cloud infrastructure, allowing access virtually anywhere.  The secured data can be made accessible to providers and patients. By harnessing this information, KoKo will be able to develop innovative respiratory health solutions that will advance remote patient monitoring and drastically improve chronic respiratory disease management.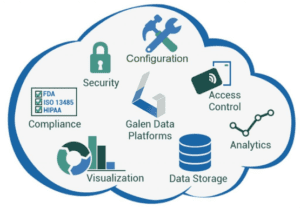 KoKo, LLC is a leader in pulmonary diagnostics and monitoring of chronic lung disease whose expertise is already being used at major medical centers around the world.  KoKo's commitment to upholding personal health information security protocols connects well with Galen Data's 40+ years of experience with medical device software privacy, security, encryption standards, cybersecurity monitoring, HIPAA/GDPR adherence and FDA/CE compliance ensure complete protection. By accessing Galen Data's platform, KoKo will be able to achieve its development objectives faster while maintaining focus on its specialty: respiratory device innovation.
About KoKo, LLC
Based in Longmont, Colorado, KoKo, LLC extends the legacy of medical technologies that have been providing the highest quality pulmonary function testing products since the 1930's. As a software development and medical device manufacturer, KoKo produces respiratory solutions with high-speed testing, cost-effective lifecycles, and unparalleled accuracy.
About Galen Data
Galen Data, Inc. provides a turnkey cloud solution for medical device makers that is configurable, secure, and compliant. The company was founded to make device-to-cloud connectivity possible in a matter of weeks instead of months, and at a fraction of the cost. The Galen Cloud™ collects and securely stores data, and includes tools to visualize and analyze that data. Dashboards and alerts for the manufacturer, medical team, and patients are also provided within the platform. The software platform is compliant to FDA, HIPAA, and CE Mark standards, and is ISO13485:2016 certified. Dozens of companies have partnered with Galen Data to solve their medical device connectivity needs.